Running SynTail for the first time
SynTail is a 100% web-based utility. This means all you need is a web browser to connect to its interface. When you connect for the first time you will see a login window. Use
admin
as the user ID and the password you selected during the setup to proceed.
The following screen is displayed after login.
This is called the Administrator Console and is used to create new File Bundles, Users and other configuration tasks available in SynTail.

Additionally, this screen is also used to display user activity, allowing administrator to see who is currently viewing files. If needed, the administrator can terminate a user session by clicking the terminate link.

Server configuration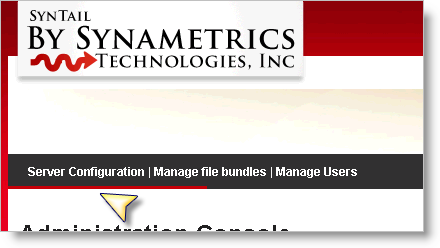 There are several parameters you should set prior to creating any users. Click the
Server Configuration
link on the upper left hand side to set these values.
Email Configuration
The most important parameter to set is the value for your SMTP Server. SynTail will not be able to generate any emails if this value is not set.
Following table lists the parameters and a description for each field on the screen.
| | |
| --- | --- |
| Administrator's Email | Corresponds to the administrator's email address. Syncrify generates email messages when events occur in the system. For example, alerts are send when someone tries to specify incorrect passwords |
| SMTP Server | This is either the host name or the IP address where your SMTP server is running. Click here to see a list of popular SMTP servers. |
| SMTP Server Port | Refers to the TCP/IP port number on which the server is listening. |
| SMTP User | This is only required if your SMTP server requires authentication |
| SMTP Password | Password for your SMTP server. |
Security
Use the security tab to change the password for the
admin
account, setup email alerts and restrict admin users to the localhost machine.
If users access your copy of SynTail over the Internet, we strongly recommend to restrict the
admin
account to localhost. This way even if some is able to crack the password, they won't be able to connect.
HTTP Configuration
SynTail comes with a built-in web server that listens on TCP/IP port 9555 by default. By modifying the settings on this tab you can make SynTail listen on other ports. For example, if there is no other web server listening on the machine, you can have SynTail listen on port 80. This way users will not have to specify a port number in their URL
Enabling SSL
SynTail automatically enables SSL (https) when you specify a positive number for
Secure HTTP port
.
IMPORTANT
You will have to restart SynTail if you decide to change the HTTP or HTTPS ports.