What's new in version 7.5
Following is a list of new features in WinSQL 7.5



Download links:

Serial number (for WinSQL Lite)
Read Me (IMPORTANT)

---
Export data from results grid to an executable file
Version 7.5 presents yet another method of sharing data generated by SQL queries with others. With just a few mouse click you can now: .
save results of any SELECT statement to an executable file
share this EXE file with anyone you like
no other file is required to run the executable
this EXE file will work on Windows XP, 2000, 2003, 2008, Vista and Windows 7
This image below shows how the screen looks when the generated EXE file is run by any user. Click here for more information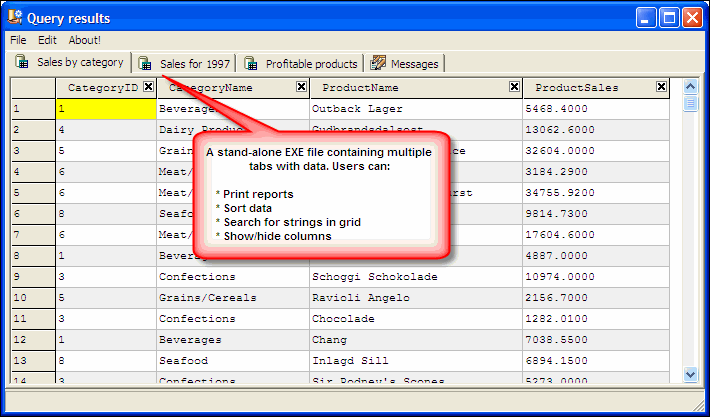 ---
Report printing
Grid printing in version 7.5 has been significantly enhanced. Now you can print the results of a SQL queries displayed in grid in 3 different ways
Tabular
Best fit
One row per page
Click here to read more.

---
Temporarily hide columns
Temporarily hide columns in result grid by clicking the X in the column header. Similar feature exists for Browse Data grid in under the catalog tab.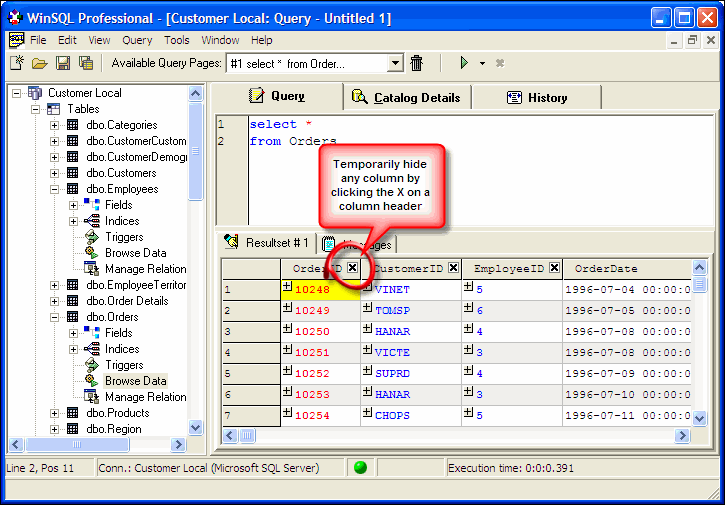 ---
Customized email recipient for Scheduled Tasks
Prior to version 7.5, email recipients for every scheduled task were set globally - meaning you could not send emails for task A to one person and task B to another. Now a recipient can be specified for every task individually.