Document information
| | |
| --- | --- |
| Document ID: | 1566 |
| Subject: | What is a top level folder? |
| Creation date: | 10/26/10 12:06 PM |
| Last modified on: | 6/24/13 10:38 AM |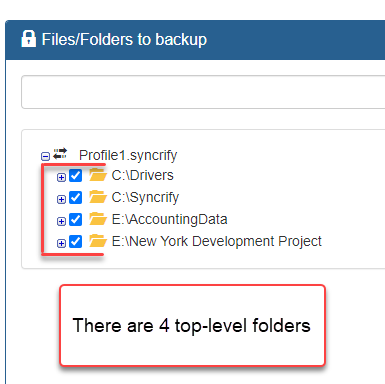 What is a top-level folder?
A top-level folder are files or folders that appears at node level 1. For example, there are 4 top-level folders in the screen shot you see on the left.
Click the image to enlarge
Top-level folders are treated slightly differently in Syncrify. For example:
If you delete a top-level folder from a client machine, it won't be deleted from the server even if the Delete file is checked. This is done by design to prevent unintentional deletes.
Every top-level folder is stored in a separate folder on the server side using the following convention:

RepositoryPath\UsersLoginEmail\ProfileName\TopLevelFolder
When VSS is enabled (Backup locked files), Syncrify will enable VSS on one top-level folder at a time.
User comments
Posted by JamalF on 4/22/14 12:49 AM
I'm testing Syncrify to synchronize Project data distributed into two separate server. Both servers has same folder structure, as following : ServerA->ProjectX>Document control->FilesIN ServerA->ProjectX>Document control->FilesIN Synchronizing A <-> B creates 2 additional folders (email address and profile name) which violates the company's standards. Is there away to allow Syncrify to synchronize only the child folders under the profile path location.
Posted by Tighty on 9/5/13 3:06 PM
Your other left.
Add a comment to this document
Do you have a helpful tip related to this document that you'd like to share with other users?
Important:
This area is reserved for useful tips. Therefore, do not post any questions here. Instead, use our
public forums
to post questions.