Running scheduled backup as super user
Note:
This article applies to Syncrify Client running on Microsoft Windows.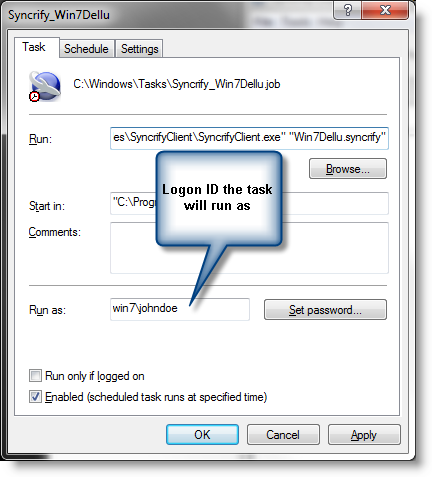 A login ID is required when running a scheduled task on Windows OS. Refer to the image on the right hand side. In most cases you will be using the same login ID as the logged in user. However, in certain cases you may want to run the backup tasks as a different user. One good example is when
Backup locked file
option is checked under the
Advanced
tab. This option uses Volume Shadow Copy (VSS) on Windows, which can only be used by
Administrators
. The new UAC rules on Windows Vista, Windows 7 and Windows 2008 prevents any program to run with administrative rights unless the access level is elevated. Therefore, it is recommended that you run the backup task as
NT AUTHORITY\SYSTEM
, which is a super user account and does not require elevation.
Select the appropriate link below for your environment.