Branding Syncrify Server
Branding allows you to put your company logo or a custom text on the upper left hand corner of the web interface, giving your users an impression that they are connecting to a website belonging to you.
Prerequisite
Syncrify Professional ISP edition. Branding is not allowed in Personal edition
You must be using version 2.4 build 459 or above.

Steps
The following steps demonstrate how to brand Syncrify Server.
Login using the admin account
Click on the ISP Configuration link under Quick Links (You will only see this link if you are using the ISP edition)
On the following page, select Branding Syncrify Server
Follow the instructions on the page to complete branding
Using custom images
If you decide to use custom images on Syncrify's web interface you must first:
Create two image. Dimensions for the first one should be 315x112 pixels and the second image should be 468x60 pixels.
Save these image files to the branding folder. The actual path for this folder will be displayed on Syncrify's web interface.
Specify the name (without path) during the branding process
What can be branded?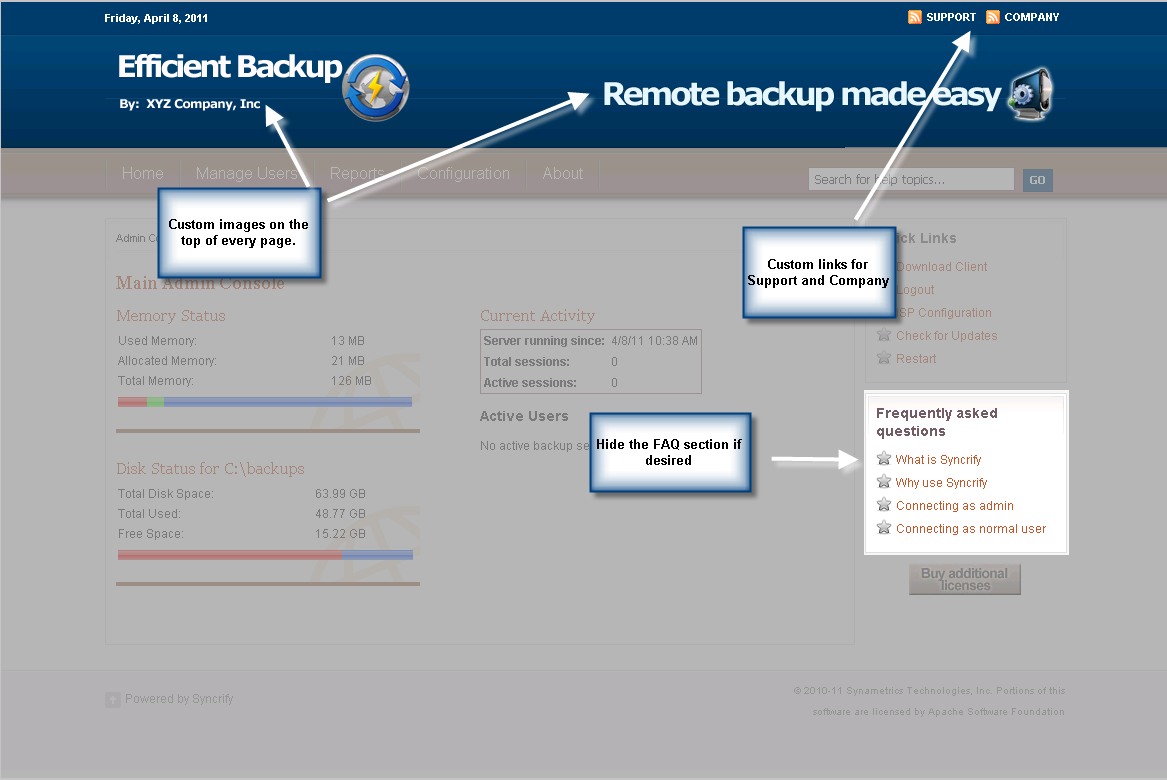 The following modifications can be made to the web interface of Syncrify server. Note that some changes only appear when a regular user logs in to the web interface. For example, when you log in using the
admin
account, the hyperlink for support refers to Synametrics Support. On the other hand, when a user logs in as a regular user, the support link will point to whatever page you like.
Two customized images on the top of every page, OR, customized text description
Custom hyperlinks for
Customized page title, which is displayed in the title bar of client browser
Ability to hide the FAQ section that contain hyperlinks referring to Synametrics' website.