Bare Metal Backups
Starting from version 3.7, Syncrify can backup disk image to a remote machine. This Bare metal backup is tightly integrated with Windows Backup and therefore, will only work on Microsoft Windows version Vista, 7, 8, 2008 and 2012. It does not work on Windows XP, Linux or Mac OS X.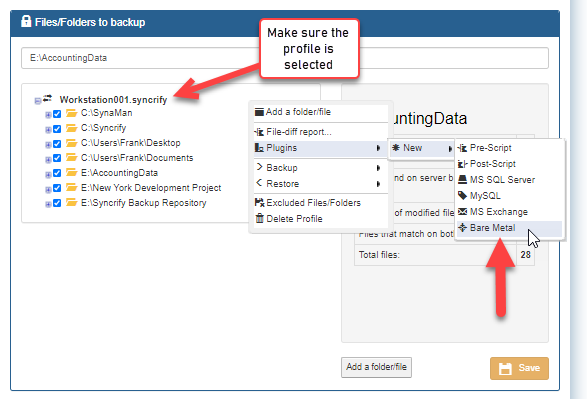 Using Bare Metal Plugin
The following pre-requisites must be met before using this feature:
Operating system must be Windows Vista, 7, 8, 2008, 2012 or above
Windows Server Backup feature must be installed on the machine. Click here for details.
You MUST have another local disk on the machine that is at least 1.5 times the size of the disk you are backing up. Consider the following example:

You wish to backup C drive, which is 500GB in size to F drive. F drive must be an empty drive that is at lease 750GB in size.
How does it work?
The Bare Metal plugin in Syncrify invokes the backup integrated with Windows operating system, which creates a backup of a source drive to a destination drive. Once this backup is complete, Syncrify will copy the files to a remote machine.
Use the following steps to create a Bare Metal backup.
Open Syncrify Client and select the name of the Profile in the tree-view control on the left
Click the right mouse button and select Plugin/New/Bare Metal
Select Source Drive - this is the one you want to backup. The Destination drive is the one where temporary backup will be stored. The capacity of the destination drive must be 1.5 times the source drive.
Save the profile
NOTE:
It may take a long time (in hours) for Windows to create a disk image.
Required Permission
Performing a Bare Metal backup on Windows is a privileged task - meaning you have to run it as an administrator. Therefore, you must run Syncrify as an
Administrator
when running a backup manually. This is done by clicking the right mouse button and selecting
Run as Administrator
from the pop-up menu.
This step is not required when backups are running in the background through a scheduler. Those backup jobs are automatically elevated from the service.
Restoring disk image
Some manual work is involved when restoring Bare Metal backups. The following instructions assume the original machine has completely crashed and is inaccessible. Your goal is to restore the C drive on the machine that also contained the boot sector and operating system.
Before attempting to complete an operating system or full server restoration from a drive image backup created with Syncrify, make sure of the following:
You have a Windows Server 2008 setup/installation disc.
If you are recovering to a new hard disk, make sure the disk is at least as big as the disk that contained the volumes that were backed up, regardless of the size of those volumes. For example, if there was only one volume that was 100 GB on a 1 TB disk during backup, you should use a disk that is at least 1 TB when restoring.
Download the backed up files from Syncrify Server. This can be done either using the web interface or manually copying the files from Syncrify server on to an external USB drive.
Steps by steps instructions
Step 1
Boot from Windows machine from the installation media. Click here for a screenshot. Select the appropriate settings for:

Language to install
Time and currency format
Keyboard or input format
Step 2
In the next windows, select the Repair your computer option. Click here for a screenshot.
Step 3
In the next step, you can load any drivers, such as RAID, if required by your hard disk. Click here for a screenshot.
Step 4
Next, select the Windows Complete PC Restore option. Click here for a screenshot.
Step 5
Ensure the external USB drive containing your disk image is connected to the machine. Windows will then scan your system to see if an image is found. Try reconnecting the device containing the image if it is not found by Windows OS.
Step 6
Once your backup disk has been detected, you may choose to restore the latest backup. Click here for a screenshot.
Step 7
Following instructions on the screen to complete backup. Once done, your system should reboot and Windows will load.