Running Syncrify Without the Internet
Although Syncrify is designed to allow file synchronization across the Internet, it can also run just fine without it. This page discusses essential points to remember when running Syncrify in a closed environment without Internet access.
Initial Setup
You come to a setup screen after installing Syncrify. This screen will take a bit longer to complete. For example, after entering the administrator's email address, the setup attempts to gather information about your SMTP server. Since Internet access is disabled, outbound requests will eventually timeout and that takes a few seconds.
Additionally, if you don't have an SMTP server configured, you could enter "localhost" on port 25 for SMTP. As shown below.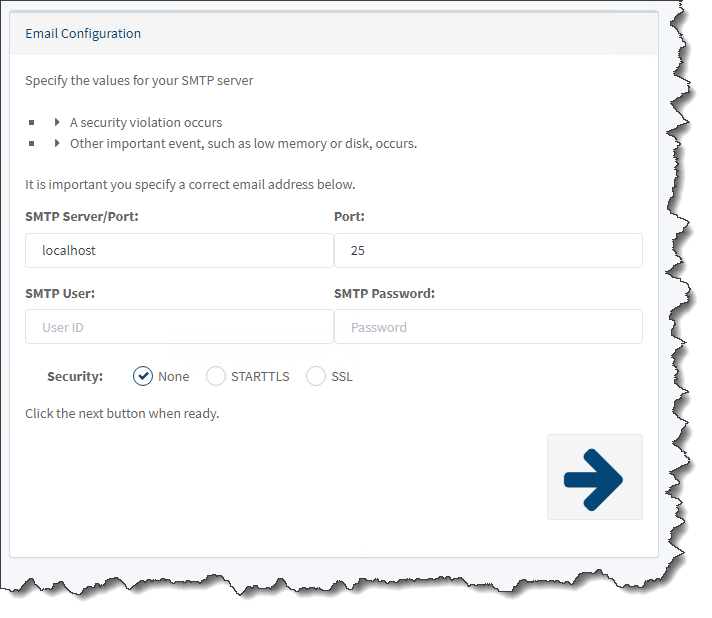 Once the setup is complete, it attempts to fetch your public IP address/hostname, which is displayed on the final screen. See the example below. Since it cannot reach the Internet, you will only see a URL for the LAN.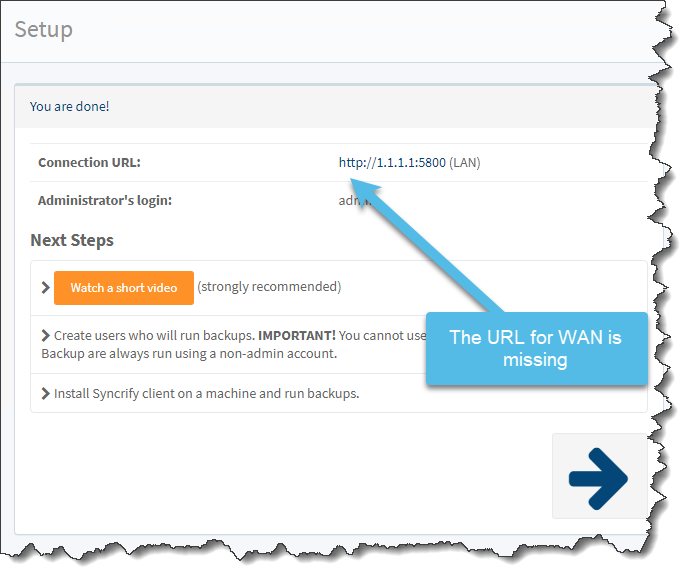 Registration
After logging in, Syncrify attempts to register your instance with the Synametrics web server. This registration attempt will fail, and you will eventually see the following screen.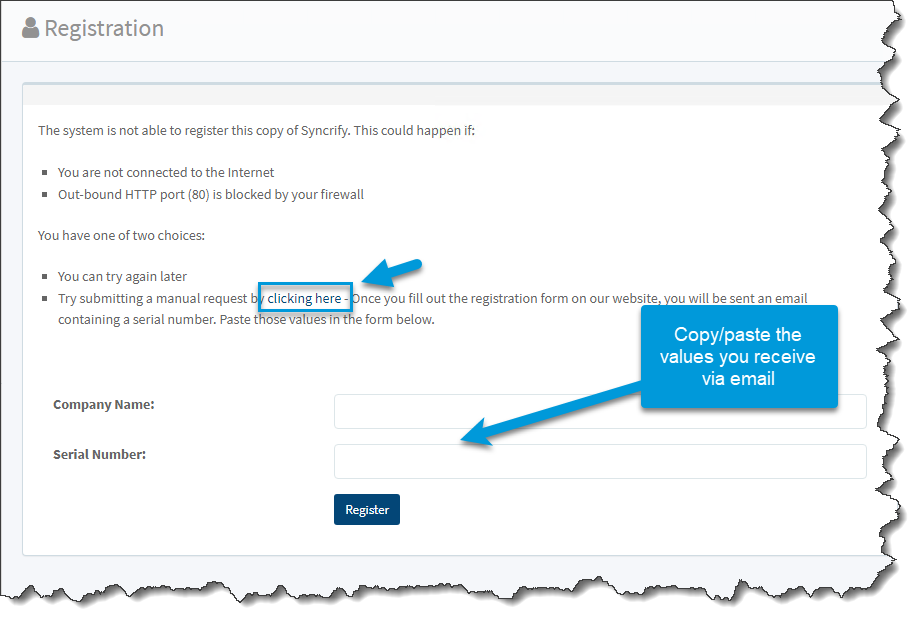 Manually
visit this page
and fill out a short one-page form. Upon completion, you will receive an email containing a serial number. Copy/paste those values in the fields you see on this page.
User Creation
Users are identified by their email addresses. This address serves two purposes:
Used in credentials when running synchronization jobs and connecting to Syncrify Server to view files in the repository
Email reports are sent after job completion
Therefore, the system forces the administrator to enter an email address when creating a new user account. This does not have to be a valid address. For example, you could enter invalid@nowhere.com. Needless to say, no one will get any reports via email if you do that.
Missing Templates and Libraries
Syncrify is designed to auto-update itself without requiring the administrator to rerun the installer. Therefore, not every required file is bundled with the installer package. As you run Syncrify and use different features, there may be times when it needs to download either a library or a template file from the Synametrics server.
For example, when you start using SyncriBox, it downloads the HTML templates required to generate emails for sharing files. Similarly, it will need to download libraries that connect to AWS when using features like Cloud Snapshots. In such cases, you must contact our support department, and we will send you the required files.
Upgrading To Newer Versions
The auto-update feature will not work. Therefore, you will have to update Syncrify manually by following the instructions on this page. Refer to the version history to confirm you're using the latest version and to get a list of features that have been added since your last update.