Document information
| | |
| --- | --- |
| Document ID: | 5203 |
| Subject: | Daisy Chain Backup |
| Creation date: | 3/8/18 6:00 AM |
| Last modified on: | 12/11/18 3:08 PM |
Daisy Chain Backup
Companies that offer backup services to your client often want to create two sets of backups. One that is closer to the machines that need to be backed up and second across the Internet.
Consider the following scenario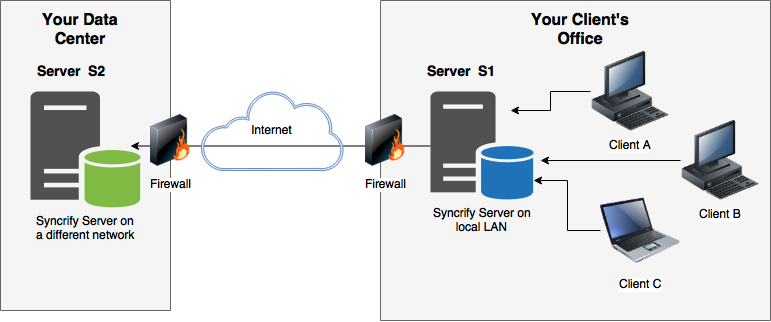 In this scenario, three machines backup to a central server on the same LAN. A second copy of the backup is made across the Internet to a server running on your end.
Design Typology
Syncrify Client is installed on Client A, Client B and Client C, which will backup data to Server S1 running a Syncrify Server on the same LAN.
Besides running Syncrify Server, Server S1 is also running a Syncrify Client, which connects to a Syncrify Server running on Server S2
Essentially, data is backed up twice. Once on Server S1 and then again on Server S2
Licensing
You will need 4 Syncrify licenses in the above example. Three license for
Client A, B
and
C
and fourth license for
Server S1
.
Alternate Strategy
If the network between
Server S1
and
Server S2
is fast, consider setting them up as
Master
/
Slave
as
described here
.
Add a comment to this document
Do you have a helpful tip related to this document that you'd like to share with other users?
Important:
This area is reserved for useful tips. Therefore, do not post any questions here. Instead, use our
public forums
to post questions.