Document information
| | |
| --- | --- |
| Document ID: | 1186 |
| Subject: | Difference between Internet and your local network |
| Creation date: | 1/8/10 11:26 AM |
| Last modified on: | 1/8/10 12:20 PM |
Internet VS Local Network
Most installation of SynaMan will reside behind a firewall creating two networks:
Internet
Local network
The following image tries to explain this concept.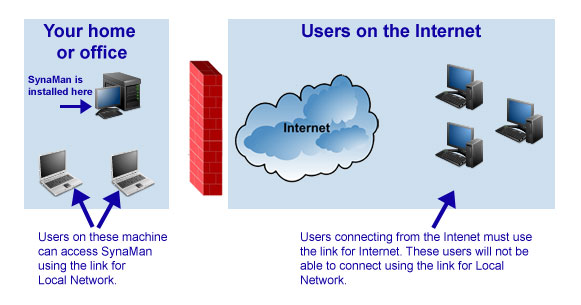 Every machine is assigned an IP address, which is used by other machines to connect. A firewall hides this IP address from users on the Internet and exposes a different address, called the public IP. Users on the Internet always connect to SynaMan using the public IP address.
When creating a
public link
in SynaMan, you have to decide where will the end-user be accessing SynaMan from. If this user resides inside your network, you can send them the link for Local Network. Otherwise, you must send them a link for Internet.
Frequently Asked Questions
| | |
| --- | --- |
| Question: | Can users on the local network use the link for meant for the Internet? |
| Answer: | The answer depends on the configuration of your firewall. Although most firewalls allow this by default, some devices, such as Cisco PIX, does not allow machines on the local network to connect using the public IP. |
User comments
Posted by anthony on 7/31/14 10:07 AM
what is the different of network and internet
Posted by Sanjay Gupta on 2/2/10 1:31 PM
You could specify a custom host name for public links. Check http://web.synametrics.com/specifyingcustomhostname.htm
Posted by Mansur abdullahi ahmed on 8/14/17 5:28 AM
The difference between internet and network?
Posted by so on 3/22/14 5:51 AM
Its a question: Who is better??? Internet or Network?
Posted by usiholo Iredia on 11/1/15 2:42 PM
what is the differnce between internet and networking
Posted by joachim nino on 11/24/15 8:40 PM
network is single or individual in platform build to access local but internet can be access globally.
Posted by Zahid on 10/23/14 11:32 AM
what is difference between Network & internet
Posted by elisha veda on 2/14/17 11:45 AM
please what is difference between internet and network?
Add a comment to this document
Do you have a helpful tip related to this document that you'd like to share with other users?
Important:
This area is reserved for useful tips. Therefore, do not post any questions here. Instead, use our
public forums
to post questions.