Secure File Sharing For Law Enforcement
Sharing private and sensitive files for law enforcement agencies, such as local police departments, is essential for their day-to-day tasks. It is common for police departments to receive surveillance videos from different local stores in their town. Stores can upload them manually at the end of the day or write a script that uploads them automatically. This page discusses achieving this goal efficiently while keeping the files private.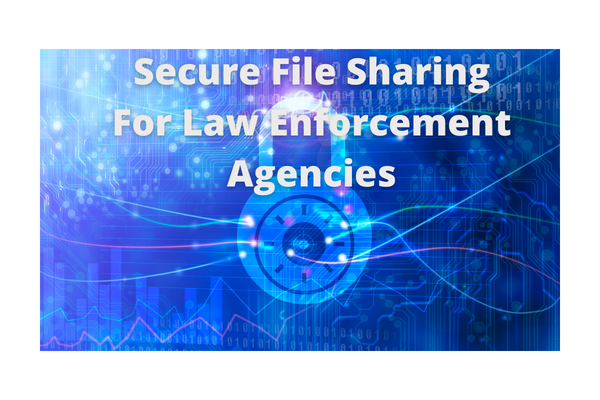 Systemic Requirements
As part of the government, local police departments have higher standards regarding privacy and security. Therefore, any file sharing solution they use must meet the following requirements.
Security - The solution must be secure using industry-standard SSL/TLS protocol and, if possible, should also be FIPS-140 compliant.
Privacy - Uploaded files must stay private and out of the hands of any unauthorized individuals. In other words, no third party should ever get involved during the transfer process.
Ease-of-use - Employees working at the store should be able to upload these files with little or no knowledge about the system.
Segregation - Files belonging to one store must be kept separate from others, allowing users to correct their mistakes in case they upload a wrong file.
Why Cloud Services Are Not Enough
It is common for users to use freely available file-sharing services on the Internet. However, these services have significant shortcomings preventing a law enforcement agency from using them and looking for alternatives.
Privacy cannot be guaranteed - Private files first go to a third-party network before the police departments download them. As a result, there is no guarantee a prying eye will not be able to look at the files.
Two-Step Process - The entire file transfer becomes a two-step process: In the first step, a store employee uploads files, followed by a download inside the police department. Both parties must coordinate to ensure data is uploaded in its entirety before someone downloads them.
Mistakes cannot be corrected - Most file sharing services do not allow modifications. In other words, deleting an incorrectly uploaded file is usually not allowed.
Cost - Video files are typically in gigabytes, quickly adding up to a very high number. In addition, most cloud services charge for storage and data transfer, making them cost-prohibitive.
The Answer: SynaMan
SynaMan is a perfect tool for law enforcement agencies, such as local police departments, to send and receive files from individuals and businesses on the Internet. It provides several benefits from an administrative perspective, such as:
On-Premise - SynaMan is a 100% on-premise solution allowing users on the Internet to directly upload their files on to your computer. No third-party will ever get involved.
Secure - SynaMan is secure from the ground up. It uses state-of-the-art technologies like SSL encryption for in-transit data, AES encryption for at-rest data, multi-factor authentication, single sign-on, and complete audit logs.
No limits - There are no limits on the size of the files or bandwidth used.
Cost effective - The perpetual licensing model in SynaMan allow unlimited users for ever.
Additionally, police officers and other office personnel can enjoy benefits like:
Share documents between agencies, prosecutors, and district attorneys.
Access documents from a mobile device.
Send large files via emails. There is no upper limit on file size.
Map local drive on your Windows or Mac computer.
Create public links for users on the Internet allowing them to either upload or download files.
Scan uploaded files for viruses.
Retain multiple versions of files.
How To Use SynaMan
SynaMan is a versatile software with many different ways of configuration. Following is an example of how you could configure SynaMan when receiving surveillance videos from local stores in your jurisdiction.
Following assumptions are made for this sample configuration: You receive surveillance videos from about 10 different department stores in your jurisdiction. Some stores upload their video at the end of their business around 8 PM while others upload them through the day. You want the system to generate emails when data is uploaded.
Step-By-Step Instructions
Install and configure SynaMan on any machine within your police department. Contact Synametrics Support if you need help configuring it.
Create a user account representing every store. Users typically have a special folder called "Home Folder". The actual location of this folder on your disk is configurable.
Give full access to the store manage to their home folder, allowing them to delete or modify files if they make a mistake.
The home folder for every store account is separately stored on the disk, ensuring files do not mix.
Set global notification in SynaMan to receive email alerts when files are uploaded.
Summary
Using freely available file sharing services is not ideal for law enforcement agencies, such as police departments, to send and receive files from users on the Internet. Such services lack the security and privacy required to preserve the confidentiality of the data. In such cases, on-premise solutions like
SynaMan
play a vital role in allowing users on the Internet to send and receive files.