Document information
| | |
| --- | --- |
| Document ID: | 1608 |
| Subject: | ODBC Manager button does not work on Windows 7 |
| Creation date: | 1/5/11 5:02 PM |
| Last modified on: | 1/5/11 5:12 PM |
ODBC manager does not open on Windows 7
Problem
Clicking the ODBC Manager button does not do anything on Windows 7. See image below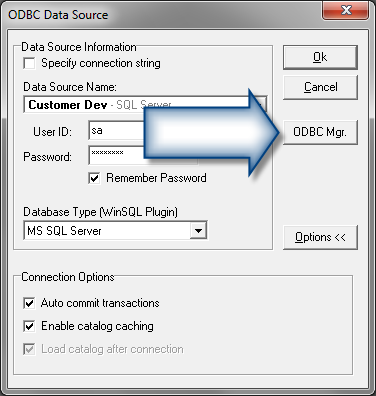 Reason
The UAC restrictions on Windows 7 restricts every application to run under standard user privileges until an administrator authorizes an increase in elevation. In normal circumstances, WinSQL does not require elevated rights. However, opening the ODBC Manager on a machine is considered a privileged task.
When you click the
ODBC Mgr
button in the connection window, WinSQL tries to spawn another process, the ODBC Manager, and waits for it to exit. When the user exits ODBC manager, WinSQL refreshes its list of available ODBC Data Source names. On Windows 7, a process that does not require administration rights cannot spawn a process that require these rights. Therefore, the OS never opens the ODBC Manager.
Work-around
As a work-around, click
Open ODBC Manager
under the
File
menu. This method does not wait for the child process and therefore, the operating system displays the UAC prompt and lets the user see the ODBC Manager.
Add a comment to this document
Do you have a helpful tip related to this document that you'd like to share with other users?
Important:
This area is reserved for useful tips. Therefore, do not post any questions here. Instead, use our
public forums
to post questions.