Need For a Secure HIPAA Compliant Remote File Sharing Application: Risks of Transferring Large Files, Challenges, And Solutions
With the internet, it is easy for anyone to share large files. However, it has its challenges. The risks could lead to compromising the organizations' and customers' privacy. Hence, there is a need for a secure, remote file-sharing application or a remote file manager to protect the individual's and business's privacy and comply with regulations such as HIPAA.
The earlier modes of transferring files using removable media, such as CDs, USB, or Flash drives, had vulnerabilities and inconveniences. Besides, the delay in physically delivering the device to the destination could lead to the data being intercepted or lost anywhere in transit. In addition, malware could infect the removable device, which could compromise data privacy.

However, today, one can share files online instead, using the power of the internet. Nevertheless, it also has risks and challenges, especially when the data involved is sensitive or confidential, such as patients' medical information, in a hospital or healthcare facility or a business organizations' trade secrets.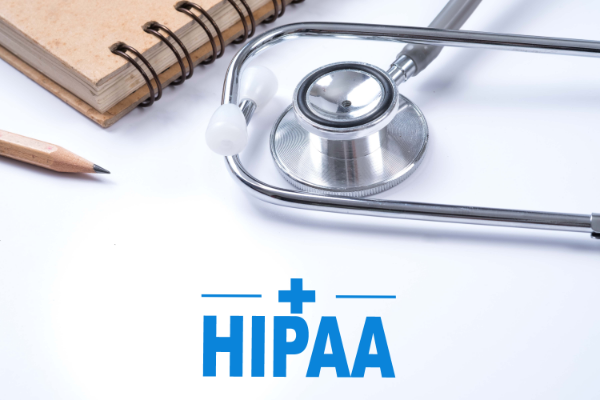 What Does File-Sharing Have to Do with Regulatory Compliances Such as HIPAA?
Physical file-sharing is almost a thing of the past. Sharing files over the internet or a local network is more viable than physically delivering large documents to the recipient. Today, there are different avenues available for sharing files, such as email attachment facilities and online file-sharing applications, which make the job much more convenient.

However, these methods are not comprehensively secure, especially for organizations expected to comply with various regulatory requirements; for instance, organizations dealing with sensitive patient data have to comply with HIPAA, and law firms are required to maintain confidentiality with their clients. A compliance breach (which may happen because a threat actor got his hands on a sensitive data file that was being shared via an unsecured channel) could mean massive regulatory fines, loss of business, and a damaged reputation for any enterprise.
Commonly Used Insecure File Sharing Methods
Among the different file-sharing modes available today, the three most common methods that stand out are the following:
Personal Emails - One of The Most Unsecured

Email attachments seem to be the easiest way to send files over the internet. However, the email attachment services offered by many vendors are not designed to be secure. Any person having access to an intermediate mail server can intercept the email and be privy to the information shared through the attachment. For example, sharing a patient's private information is a HIPAA violation resulting in potential fines and penalties. In addition, there could be a loss of business reputation. The ideal solution to such an issue is using file encryption facilitated through secure file-sharing services.

Consumer File Sharing Apps - Equally Insecure

An employee might think that using a typical consumer file-sharing app would be convenient to share files with their colleagues since they would be saved from the hassle of the time-consuming process of contacting the IT department and then using a secure file-sharing mechanism. It may save a few minutes but does not guarantee that the data would not be exploited at any point in its journey, regardless of its encryption. The data must go through numerous servers, and the chances of interception through a third-party player are high. Many businesses use such shadow software to transfer large files, despite being unsanctioned and without clearance by the respective IT departments or the management. It makes the entire transaction vulnerable. Businesses cannot take recourse to legal action if the data gets compromised while using such pieces of shadow software.

Using Flash Drives For Remote File Transfer- High Risk of Getting Infected

Flash drives and similar USB devices might seem to be a thing of the past, but they are still widely used for transferring data even today by copying the large files or databases and transferring it to remote offices or site locations, as it has the following advantages:

The flash drive's control remains with the user. It is independent of any service provider, and hence, there is no chance of any unauthorized access if physically protected.
Flash drives do not need an internet connection to transfer files.
Having data on a flash disk gives the feeling of security rather than putting it on the cloud, which can feel intangible.

However, using flash drives has its significant drawbacks, such as:

A flash disk is vulnerable to infection with malware at any point if it falls into the hands of threat actors.
Infected flash storage can transfer the virus or malware to the recipient's PC or network system and affect it, especially if it is not scanned correctly.
The Solution - Using a Secured Remote File Manager
Enterprises looking for an ideal solution to the challenges mentioned above should look for a secured remote file manager that offers the following security features:
Encryption: Encryption is important while data is at rest (stored on devices or in the cloud), in transit (while being transferred via communication channels). Encrypting the file transfers using SSL and transmitting through a secure HTTPS network ensures no one can get their hands on the data in transit and can protect the confidentiality of sensitive enterprise information. On the other hance, end-to-end encryption provides an additional layer of security by protecting the data from one endpoint to another, such as email communication. In transit or end-to-end encryption is achieved when SynaMan is combined with Xeams, an extended secure email and messaging server.
Secure AD Integration: Eliminating the need to create users and synchronize passwords by integrating the file manager with the active directory (AD) running on the domain controller. A solution that has the ability to create unlimited user accounts protected by user IDs and passwords.
Private Cloud: HIPAA compliance has strict regulations around the environment where data is stored. Uploading files through third-party service providers relinquish such control, risking non-compliance to HIPPA regulations. Therefore, companies can meet these requirements only if the data remains under their control throughout its lifecycle. SynaMan relies on a secure private cloud that is not shared with any other organization. Thus, when you?re sharing the files via SynaMan, you?re always in compliance with HIPPA.
Transfer via email: ? HIPAA compliance requires organizations to safeguard patients? PHI (Protected Health Information). PHI may include sensitive health records, patient history, various laboratory test results, etc. Synametrics products solve two problems when transferring files containing sensitive and confidential healthcare information via email:

Ability to send large attachments via email, and this is achieved by leveraging SynaMan.
Ability to send emails that cannot be viewed by any person other than the intended recipient. This is achieved by End-To-End encryption achieved by leveraging Xeams.

IP Whitelisting Capabilities: Controlling user access by restricting specific IP addresses for additional security ensures that the information is shared only on a 'need-to-know' basis.
Audit & Logging: An inbuilt audit trail and logging mechanism to enable the administrator to back-track any user's activity in case of an incident. Auditing and logging capabilities also help in staying compliant with regulatory guidelines and security best practices.
Automated Alerts: Automatic email alerts to the administrator on sensing a security rule violation. For instance, multiple unsuccessful attempts to enter passwords.
Notifications: Notification messages through email whenever someone uploads or downloads files from a specific folder.
Businesses should invest in a secure file-sharing app and train their staff members to use it properly when transferring large files. Besides, regulatory institutions and acts (such as HIPAA) make it mandatory to use secure applications that can help ensure consumers' privacy.
Does Such an Ideal Remote File Manager Exist?
Yes, it does.
SynaMan
is a 100% web-based application that needs only a browser to connect, control, and transfer large files. Moreover, it possesses all the security aspects discussed above that protect user data and ensure confidentiality and security of personal information. Besides,
SynaMan
has a user-friendly interface to view the files and folders as they appear on their local devices. Consequently, it is one of the most straightforward applications to install and run on any network system.
Final Words
In the age of Big Data, sharing large files continuously to remote locations is a commonplace process. However, organizations have encountered unanticipated threats of considerable magnitude due to unsecured file sharing, eventually causing substantial financial and reputational losses. Organizations and enterprises cannot refrain from fulfilling core business requirements and activities. Hence, the best solution to address the challenge of securely sharing files is to use a secure, fast, and reliable file-sharing mechanism. Our team of experts at
SynaMan
can also help your organizations stay protected while your sensitive information assets are being transferred remotely and remain compliant with regulations such as HIPAA and GDPR at the same time.
References
1. Synametrics Technologies. SynaMan
https://web.synametrics.com/SynaMan.htm
2. Hipaavault.Com. (2021, January 12).Three file-sharing risks in healthcare.
https://www.hipaavault.com/hipaa-drive-2/3-file-sharing-risks-in-healthcare/
3. Lord, N. (2019, April 15). What is File Sharing Security? Digitalguardian.Com.
https://digitalguardian.com/blog/what-file-sharing-security
4. Cleo.Com. File Sharing Security Risks & Tips on Secure File Exchange.
https://www.cleo.com/blog/knowledge-base-secure-file-exchange
---
| | |
| --- | --- |
| Created on: | Oct 22, 2021 |
| Last updated on: | Oct 2, 2023 |
---
LEAVE A COMMENT
Your email address will not be published.
---