Document information
| | |
| --- | --- |
| Document ID: | 757 |
| Subject: | Using comments in MS Access |
| Creation date: | 7/29/09 11:45 AM |
| Last modified on: | 7/29/09 11:46 AM |
Details

MS Access does not support comments natively. Therefore, you must use local comment parsing in WinSQL. Open the configuration screen from Edit/Options on the main menu. Check "Parse comments locally"
Refer to the image below.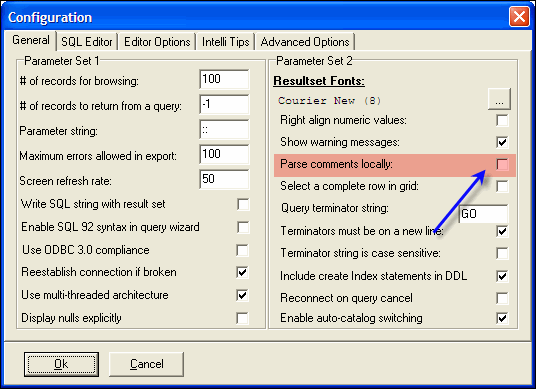 User comments
Posted by thurkadevi on 12/14/10 9:55 AM
tell about how to connect the ms access with vb
Add a comment to this document
Do you have a helpful tip related to this document that you'd like to share with other users? Please add it below. Your name and tip will appear at the end of the document text.