Home Folder
Typically, when a new user is created, administrators must assign folders that can be accessed by this newly added user. The user's Home folder is a special location on the disk that is automatically added to a user's account. It offers the following benefits:
Automatically assigned to newly created users.
Read and write permissions are enabled for the users.
It is not shared by any other user.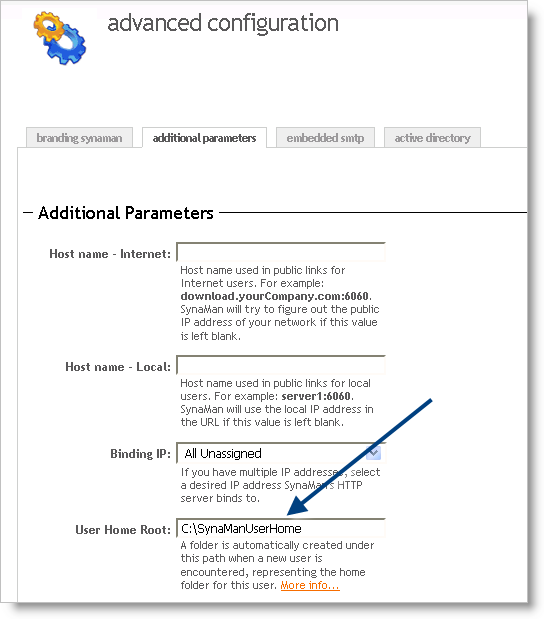 Steps to enable
Login as admin to the web interface
Click Configuration and then Advanced Configuration
Select the tab for Additional Parameters
Specify a path for User Home Root. This must refer to a valid path on the machine where SynaMan is running.
How it works
Value specified for
User Home Root
serves as the starting path for every user's home directory. Consider the following scenario.
You specified the value for User Home Root to be C:\SynaManUserHome
You add a new user with john.doe@yourCompany.com as the login id
The location of the home directory will become C:\SynaManUserHome\john.doe@yourCompany.com
When John Doe logs in, he will see a virtual folder called Home.
It is important to remember that only
new
users are assigned a home folder. Meaning users added to SynaMan prior to assigning a value for
User Home Root
won't have a home folder. If you want to assign a default home directory to users added previously, paste the following URL in your browser:
http://localhost:6060/app?operation=mngUsers&st=assignHomeDir
Adding default files to user's home directory
You can optionally add files to user's home directory at creation time. To do that, modify $INSTALL_DIR\config\UserHomeTemplate.txt file. This file should contain one file name per line. Every file that appears in this file will be copied to user's home directory.