File Management Tips for Photographers
Whether you are just joining the hobby of photography or you are looking to take your current photography business to the next level, it is clear that organization is a key to success. While you may have your equipment organized, it is essential to have your data organized as well. Experts recommend having a strategic workflow to ensure that photos are taken and stored in a proper manner for easy access and overall consistency within the creative flow. Some important questions to ask yourself are:
Where are my images stored?
How are my images stored?
Is my data scattered across multiple file paths?
Can I easily find what I am looking for?
While there are various ways to improve your workflow organically, it can also be helpful to search for a technical asset to ensure reliability, security, and greater ease of use for more thorough organization. Once a solid workflow is established, it is essential to stay consistent to ensure errors are reduces and processes stay as easy as possible. To contribute to a solid workflow, here are some recommendations to get started: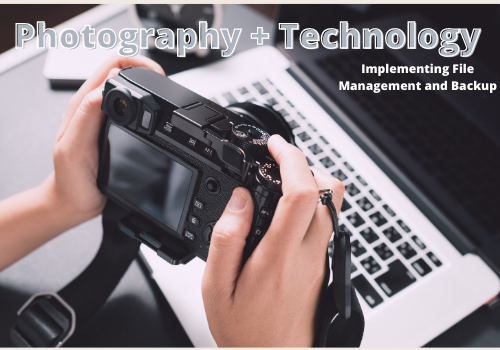 File Management: A major key to ensuring a creative workspace stays organized is my implementing a file management solution. By using a file management software, files are not only able to be easily stored in one location but can also be accessed from anywhere at any time. For photographers, this can be super beneficial when showing work to a client or looking to immediately transfer files while on the go. In addition to the secure storage, there is the added benefit of being able to select files into specific folders without running into duplication risks. Images are able to be easily searched, located, and put into a proper place to pick out for future references.


File Back Up: With a strong file management system in place, your files can always be found. However, it is equally important to ensure that they are backed up! Uploading to an external hard drive will ensure that photos do not get accidentally deleted while also allowing greater storage capabilities. When deciding where to backup these photos, it can also be beneficial to have technology by your side. A backup option like Syncrify will allow you to backup, sync, and restore all files in the event of a security threat to your main drive. This can be especially beneficial for those who are constantly on the go and working around the clock but need a bit of added reassurance that their files will stay safe and protected from threats. In the event of a disaster, Syncrify works to ensure that files can be restored in a simple and easy manner without having to compromise on your creative flow and credibility of your photography business.


Security: While transferring important files from place to place, it is essential to ensure that these files stay protected. Though the file transfer process may leave some photographers feeling wary as there's the potential for a data breach or other security threat, a strong file management solution that does not allow for third party interruption will alleviate those worries. This will allow all information and photos to stay private without the looming threat of prying eyes. There is no need to compromise on security while aiming to keep your hard work under lock and key until ready for final release.


File Naming: Now that you have your storage, backup, and security figured out, it is important to keep consistent and organized during your import process! Many experts strongly recommend naming files in a certain way for additional organizational methods. Some examples may include, naming photos in a chronological order. Other alternatives include identifying photos alphabetically for easier access. Depending on what works best for you, this naming practice will help keep the file management solution you've implemented neat and clean for future uses while staying completely organized.





If you are looking to elevate your organizational skills while perfecting your creative mastery in photography, keep these tips in mind and implement a strong file management solution and backup solution to keep your files, safe, organized, and easily accessible. You can get SynaMan for FREE and enjoy all of the assets this product will bring to you and your creative workflow. Ready to achieve success while making every day tedious actions into simple processes that boost productivity and success? Download SynaMan for free here!

---

| | |
| --- | --- |
| Created on: | Dec 15, 2020 |
| Last updated on: | Oct 2, 2023 |

---

LEAVE A COMMENT

Your email address will not be published.

---