Quick Links

Video Tutorials

Industry solutions




Document information
| | |
| --- | --- |
| Document ID: | 1890 |
| Subject: | What does compress data mean |
| Creation date: | 10/12/11 9:16 AM |
| Last modified on: | 12/11/11 8:40 AM |
Compress Data
Questions: What does the Compress Data (see image below) do when using Syncrify?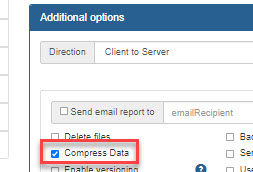 Answer: Syncrify tries to compress data during the backup process when this option is checked - meaning it compresses a chunk of file, sends it over the server and finally, the server decompresses it before saving it to the disk.

This compression is only meant to speed up the data transfer. Once the file is on the other side, it regains its original form.
Can the files be compressed on the server to save disk space?
The current version of Syncrify does not offer this feature. However, there are a couple of ways to accomplish this goal:
Client side -

Create a script on the client machine that compresses the file in a different folder before backing them, OR

Server side -

Use the compressions provided by the OS to compress the repository folder. This is the recommended approach since the OS takes care of decompression before returning data to the application. Many operating system allow compressing selective folders. For example, the image below show how to do this using Windows XP.




Add a comment to this document
Do you have a helpful tip related to this document that you'd like to share with other users? Please add it below. Your name and tip will appear at the end of the document text.