Document information
| | |
| --- | --- |
| Document ID: | 810 |
| Subject: | Fetching database catalog - takes very long |
| Creation date: | 7/29/09 4:39 PM |
| Last modified on: | 8/17/11 2:51 PM |
Details

After establishing connection to the database, WinSQL tries to fetch the database catalog. On larger databases, with thousands of tables, this may take a very long time. Therefore, it is recommended that you turn this feature off. Following steps show you how to do that.
Version 6.5 or higher

Using cache is no longer a global option in version 6.5. You can enable or disable catalog fetching per connection.

Steps:

Start WinSQL - Connection window is displayed
Un-check "Enable catalog caching"
Un-check "Load catalog after connection"

Note: If catalog caching is enabled, WinSQL will always load the catalog from the last saved cached value.

Version 6.0 or below

Enabling or disabling catalog fetching is a global option - meaning if you disable it, WinSQL won't fetch the catalog for every connection.

Steps:

Start WinSQL
Click the Cancel button in the connection window
Click Edit/Options on the main menu
Uncheck Fetch catalog after connection
Reconnect to you database
Refer to the image below, which is a screen shot of WinSQL version 6.5. Connection window for newer versions look similar.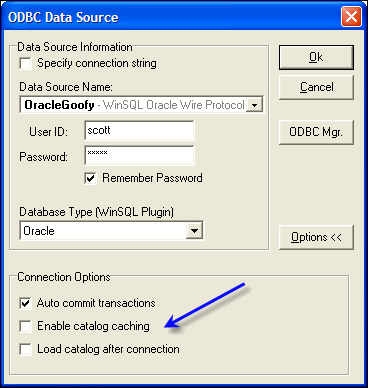 Disadvantage of disabling catalog
Features that depend on the catalog won't work until the catalog is fetched. These features are:
Intelli-Tips
Drill down results
To decrease the amount of data returned in the catalog window, try specifying a particular schema/user in the catalog window.
User comments
Posted by dimitry on 6/2/12 3:19 PM
An auto update system would be very nice and not so hard to implement I think ? Certainly if like us we have a 100 users per server...
Add a comment to this document
Do you have a helpful tip related to this document that you'd like to share with other users? Please add it below. Your name and tip will appear at the end of the document text.