Document information
| | |
| --- | --- |
| Document ID: | 1186 |
| Subject: | Difference between Internet and your local network |
| Creation date: | 1/8/10 11:26 AM |
| Last modified on: | 1/8/10 12:20 PM |
Internet VS Local Network
Most installation of SynaMan will reside behind a firewall creating two networks:
Internet
Local network
The following image tries to explain this concept.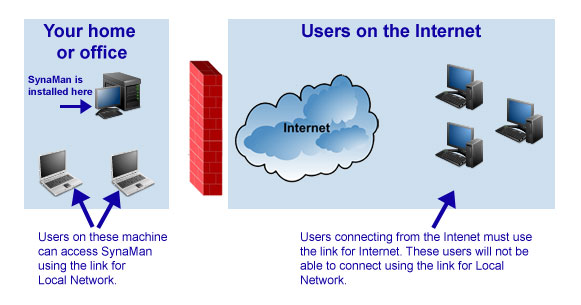 Every machine is assigned an IP address, which is used by other machines to connect. A firewall hides this IP address from users on the Internet and exposes a different address, called the public IP. Users on the Internet always connect to SynaMan using the public IP address.
When creating a
public link
in SynaMan, you have to decide where will the end-user be accessing SynaMan from. If this user resides inside your network, you can send them the link for Local Network. Otherwise, you must send them a link for Internet.
Frequently Asked Questions
| | |
| --- | --- |
| Question: | Can users on the local network use the link for meant for the Internet? |
| Answer: | The answer depends on the configuration of your firewall. Although most firewalls allow this by default, some devices, such as Cisco PIX, does not allow machines on the local network to connect using the public IP. |
User comments
Posted by jones udofia on 6/25/11 8:06 AM
i want to known more on networking and
Posted by Sanjay Gupta on 2/2/10 1:31 PM
You could specify a custom host name for public links. Check http://web.synametrics.com/specifyingcustomhostname.htm
Posted by Krzysztof on 2/2/10 1:23 PM
Hello, I'm evaluating Synaman for some time. Right now I'm struggling with the following problem: My machine has multiple LAN IP addresses, e.g 192.168.1.1 10.1.0.1 Internal users are in 10.1.0.0/24 network, but Synaman generates internal upload/download links using 192.168.1.1 address. Users click links in emails but obviously can't reach Synaman. Is internal IP address configurable? Thanks.
Add a comment to this document
Do you have a helpful tip related to this document that you'd like to share with other users? Please add it below. Your name and tip will appear at the end of the document text.